Assured safety
Our x-ray protection aprons and accessories provide high quality radiological protection whilst also being comfortable, durable and offering exceptional value for money. Available in a variety of styles, colours and sizes, our x-ray protection aprons are of high quality and designed to be comfortable, incorporating fastening, shoulder padding and weight distribution features to allow them to be put on correctly and taken off easily, with the minimum of hassle.
Our range has been carefully selected to protect professionals working in a range of common therapeutic and diagnostic environments ranging from dental OPG / CBCT, low dose fluoroscopy and small animal veterinary to CT interventional (tungsten), high dose fluoroscopy and large animal mobile veterinary (and everything in-between).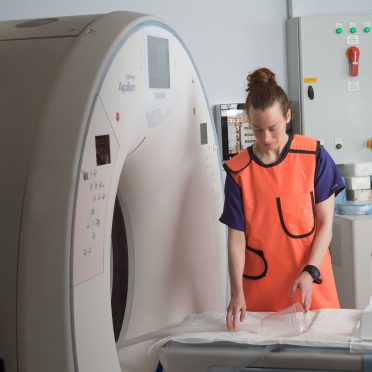 Made to last. Guaranteed.
We only stock garments made from high quality materials that can withstand the rigours of daily use. We offer a standard 1 year guarantee on all our garments but with care, you can reasonably expect them to last at least 5-10 years.
Xenolite® radiation protection
Originally developed by DuPont, Xenolite® was the world's first lightweight X-ray protection material to offer an alternative to heavier lead-vinyl aprons. Fully compliant with world safety standards our Xenolite® product range has the lightest-weight x-ray aprons available with every garment providing maximum comfort and mobility. They are also eco-friendly, recyclable and safe for non-hazardous disposal.
Our product range
Vest / skirt aprons
Designed to maximize weight distribution between the shoulders and hips, our vest / skirt aprons provide greater flexibility when sitting, bending or stooping.
The overlapping skirt ensures maximum protection and our range offers shoulder pads, pockets on vest and skirt and hanging loops on skirt as standard. Available in male and female sizes.
Xenolite® B weight relief vest & skirt 0.25/0.25 mm Pb
With Velcro® closure at right hand side and shoulder the single-piece front vest panel makes this model very light and comfortable to wear. Unisex sizes are available.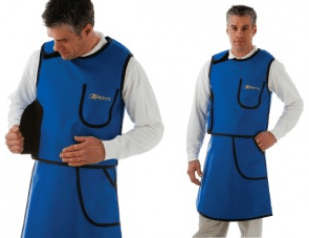 Full wrap aprons
All Xenolite® Full wrap aprons offer maximum protection with superior comfort and are designed to reduce upper back stress during long procedures. All our full wrap aprons come with shoulder pads and a pocket.
Frontal Aprons
Our frontal apron range allow freedom of movement, maximum flexibility and superior comfort, whilst providing high quality protection from X-rays. They are designed with an open back and 10 cm Velcro® adjustment strips making them both light and comfortable. As standard, all our frontal aprons come with shoulder padding and a pocket and are available in both male and female sizes.
610E-0.25 Xenolite® B elastic tab frontal apron 0.25 mm
Elastic tabs pull around to the front for a more comfortable fit around the waist.
610NV – 0.25 Xenolite® frontal apron – no Velcro® 0.25 mm Pb
This no-Velcro® apron has a 7.5 cm wide elastic tabs allow for comfortable fit at the waist with buckle closure. The body-hugging design helps to shift weight away from the shoulders toward the waist.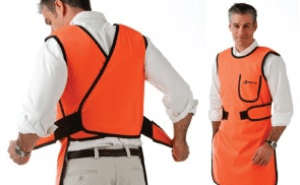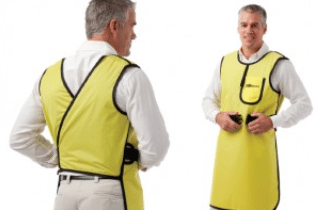 Apron Accessories
640T Xenolite® B Thyroid Collar 0.50 mm Pb 3 620SV-0.25/0.25
Available in two sizes: standard (fits most) or large size where the neck is over 51 cm in circumference.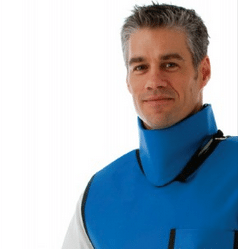 Apron racks
9890 Xenolite® apron rail with 5 hangers LT
Built to last and made from robust painted metal (white), this rail has lockable wheels and is capable of holding up to 136 kg of protective garments. Five non-removable hangers are included. Additional hangers are available for purchase (see below).
Specifications: 137.2 cm high, 91.4 cm wide, and 61 cm deep.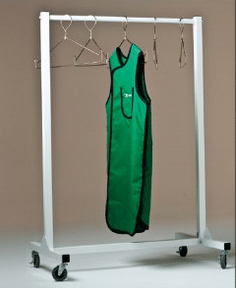 9880 Xenolite® compact apron stand LT
Occupying only 61 cm (24″) of floor space, this white mobile rack is perfect for rooms where floor space is restricted. The stand provides 8 prongs holding up to 12 aprons and / or thyroid collars.
Specifications: 122 cm tall.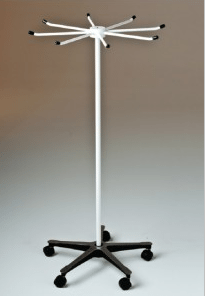 HANGERS Xenolite® chrome steel hanger for apron racks
Quality garment hangers that are built to last and designed specifically to carry the additional weight of protective aprons.
Radiation reducing gloves
Proguard RR1 radiation reducing gloves
For use in protection against scatter radiation, these surgical gloves are ideal for high exposure procedures whilst only being 0.22 mm thick to maintain dexterity and tactile sensitivity. The gloves are powder free and anatomically correct curved fingers help reduce the risk of hand fatigue.
Available Sizes: 6 – 9 including half sizes