Other products: lead ingots, lead ballast & molten lead
All sorts of lead ballast for all sorts of requirements
If you are looking for the perfect ballast, then lead is a perfect material to choose.  Being such a dense material, you can use a much smaller quantity to achieve the same counter-balancing effect as much larger quantities of most other materials.  This is particularly useful where weight is needed in small spaces, such as in the hulls of boats.
It's also good to know that lead is a virtually 100% recycled material. That's particularly reassuring if you only need your ballast for a finite period of time – meaning that you will be able to sell it back to us for further recycling and re-use at much lower environmental cost than other ballast materials that are available.
Lead ballast comes in many different shapes. In balls, bars, blocks, castings to suit a particular application in the construction, marine, aerospace, materials handling industries and many more.  We can supply it to your exact requirements, so just give us a call to discuss.
From lead ingots to molten lead
Lead ballast actually comes in a surprising variety of different forms. And you can tell us precisely what shape, size and weight of ballast you want. To give you an idea, these are some of the most popular options:
Lead dust – from large ingots to super-fine lead dust, ballast comes in many shapes and forms
Lead ingots – our ingots are typically available in 25kg and 40kg weights – but just specify your requirements when you order
Lead shot (or pellets) – small, dense and heavy! Given their small size, lead pellets are a great choice for filling long, thin or irregular sized cavities.
Molten lead – we can actually fill the required cavity with molten lead giving you a secure, permanent ballast or counterweight solution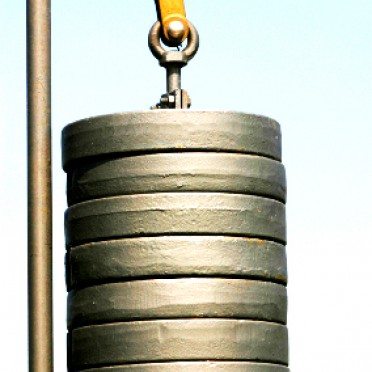 Any size, shape and weight of lead ballast
We really can provide lead ballast in any configuration, right up to several tonnes in weight. And if you need any help assessing just how much you need, you can let us know. Give us a call on <insert number> and we'll help you work it out.
Over the years, we've acquired a good feel for what kind of ballast material works best in different applications – and how much ballast is required.
What do our customers use our lead ballast for?
So many things…
We can fill boat keels, piling tubes and pylon structures with molten lead to ensure ongoing stability. We can fill military vehicles where a secure counterweight helps to ensure secure torque and stability even over rough terrain and in treacherous conditions.
We work with all sorts of industries too – from maritime to military, from architectural to industrial plant manufacture and many more…
What lead ballast do you need?
Give us a call on +44 (0) 1283 224 555 and talk us through your requirements. We will custom-make your lead ballast to fit.