Lead doors – radiation protection that is built to last
Quality radiation shielding, flawless operation and able to withstand the rigours of daily use; we understand that whilst lead doors may be a functional consideration they still need to reliably protect staff and patients, work with the minimum of maintenance and look great.
Available as hinged, sliding or power operated, our lead doors are designed for use in healthcare, dentistry, veterinary and industrial environments. All are made-to-measure to fit any structural opening where radiation protection is required.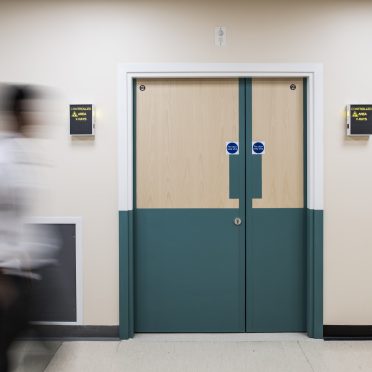 Key features
All doors and ancillary components meet industry radiation protection standards including NHS Estates Health Building Note 6
Lead shielding core in the frame, door, stops and architraves is hidden
Available in lead equivalences of 0.45 mm upwards
Solid hardwood (Ash, Beech, Maple, Oak, Sapele or Walnut) construction for strength and longevity
Steel or composite
Optional factory fitted lead windows
Optional door-mounted warning lights
Assembled and tested before delivery to minimise fitting time and cost
Guaranteed radiation protection
We work closely with radiation protection advisors who can provide expert guidance on the level of protection required for any room configuration, environment or exposure risk. The chart below shows the weight of various thicknesses of lead which is increased to achieve different levels of protection.
LEAD CODES TO BS EN 12588 (1999)
Code
3
4
5
6
7
8
Normal Thickness (mm)
1.32
1.80
2.24
2.65
3.15
3.55
Fitting and ironmongery
We use high quality fixings including Royde and Tucker H101 lift-off hinges to provide ease of installation and longevity. Similarly, all handles, fixings and kick plates are factory fitted by us to exacting standards. Should you have specific requirements we are more than happy to accommodate them and can advise on the most suitable components and configuration.
Finishes and options
Whilst safety is our main goal, we offer a range of customised finishes to ensure your radiation protection doors look great. We can supply your door(s) to a range of options:
Primer painted for local finishing
Wood veneer (American Black Walnut, Ash, Birch, Oak, Sapele and Steamed Birch)
Standard or anti-bacterial lacquer finish
Powder coated
Plastisol surface
Laminates
Factory fitted, durable laminates to create a superb finish.
Our stock laminates include Formica / Print and Polyrey and are available in a wide range of colours. If you have a preferred manufacturer, we can fit any suitable laminate you prefer.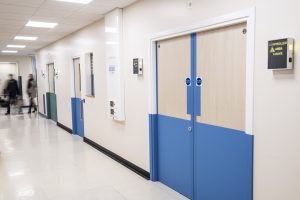 PVC encapsulation for infection control
Offering enhanced infection control, we can encapsulate your door(s) with high quality PVC at point of manufacture. Available in a range of colours, our stock PVC finishes include Acrovyn, Yeoman Shield and Intastop but we can accommodate any preferred manufacturer offering an equivalent product.
How we can help? Give us a call on +44 (0) 1283 224 555 or email us at healthcare@midlandlead.co.uk to tell us about your requirements.