Lead – it's the world's greenest building material
Lead is featured in the BRE Green Guide – which outlines the environmental impact of various building materials – as an A+ or A rated material.
Our machine cast lead now also has a BRE Global Environmental Product Declaration
Lead's carbon footprint is between 30 and 76kgCO2 per kg of material – that makes it significantly lower than even copper, zinc or stainless steel.
Lead lasts. Where other man-made products are reaching the end of their useful lives, lead goes on. Even with little-to-no maintenance, you can expect lead sheeting to last decades. Our machine cast lead has a 60-year guarantee, and rolled lead sheet has a 50 year guarantee.
It is as close to being a 100% recyclable material as you can get. Lead can be re-used – not just once, but over and over again.
Lead's got a relatively low melting point of 327°C which means we don't have to expend huge amounts of energy recycling it. (Our machine casting process is extremely efficient with a significantly smaller impact on global warming than production processes for other metals or synthetic materials.)
Eco points describe the extent to which a material contributes to a building's environmental performance How does lead fare? Depending on the type of roof system, lead only generates between 0.5 and 0.66 Eco points – that means minimal environmental impact.

Questions about recycled lead
At Midland Lead we only make new lead using recycled lead. But how does that benefit you? Let's find out. These are some of the questions we're asked about buying and working with recycled lead:
Why is 100% recycled lead better?
Sourcing 100% recycled lead will help you meet your corporate social responsibility and your environmental targets. It will impress your customers too. And you won't even have to pay a premium for it.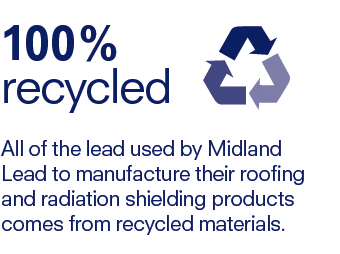 How does making new lead from recycled lead work: where does it come from and how do you guarantee its quality?
This is the three-step process we follow at Midland Lead
1. First, we find a good lead scrap supplier. All of the lead we use comes from trusted, approved suppliers.
2. We check the quality of all the recyclable lead we receive. Quite simply, if it's not good enough, we don't use it.
3. We check our lead at every stage of the production process to ensure it conforms to the right chemical composition and the right code thickness.
It may be environmentally friendly, but how does recycling affect the quality?
Recycling lead doesn't affect the quality at all. Not even a little.
Here's a good example: we are often called in to work on heritage projects. Sometimes we're asked to recycle the existing lead sheet from a church roof so that it can be re-used. As part of the recycling process, we may skim off a few additional impurities, but we don't add anything. So the client gets back the same lead – just in a new, purer form.
What measures do we have in place to meet environmental standards?
IPPC permit
Midland Lead works hard to ensure we meet the requirements of the Integrated Pollution Prevention and Control (IPPC) permit, regulated by the UK Environment Agency. That means every aspect of our business that could have an impact on the environment is regularly checked and monitored. We are also required to demonstrate what steps we take to reduce our energy use, minimise waste production – and minimise emissions to air, land and water.
ISO 14001
In June 2006, after 18 months of hard work, Midland Lead was awarded an Environmental Management System (certificate EMS 505964) to show that we comply with ISO 14001: 2004 standards. It gives us something that very few lead sheet producers have: ISO certification covering the entire manufacturing process.
Any more questions?
Hopefully this site will give you a good guide to our lead products and how we make them – the products and sectors pages will give you lots more useful information. But if you've got any other questions, just give us a call on +44 (0) 1283 224 555 or contact us.