The plugging chisel – no roofer should be without one
Plugging chisels are an industry staple, used by roofers for over 100 years to chase an accurate slot in a masonry wall or mortar course. Small but sturdy, the chisel is best used for jobs where accuracy is key.
As such a vital part of the roofer's tool belt, strength is important when it comes to selecting a perfect plugging chisel. Our plugging chisel is forged from high quality carbon steel, to ensure it doesn't splinter when pressure is applied. Unfortunately, the market is saturated with other versions of the chisel that have not been manufactured to as high a standard. Chisels need to be made from high carbon steel, which is hardened and tempered correctly to ensure durability and longevity. Incorrect hardening or cheap steel can lead to chisels shattering, bending or performing poorly. Conscientious roofers know how important it is to invest in the correct products and recognise that by spending a little more in the first place they will save money in the long run.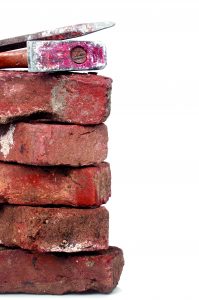 As well as being strong, the chisel is also designed with precision in mind. Removing old mortar from brickwork is a delicate task, one false move and you could have a much larger job on your hands. This isn't an issue with the chisel as the handle is elegant and slim, fitting comfortably into your hand and the flute section is designed to allow for faster discharge of debris.
Precise and strong – although not as fast working as power tools – the chisel also has other benefits that far outweigh speed. An alternative to the plugging chisel is the angle grinder, but these produce dust and require a power supply, which can cause difficulties when working on a roof. Another advantage the plugging chisel has over an angle grinder is that it can give more accurate results concerning depth as you control the level of pressure yourself with a hammer.
Triumphing once again over the angle grinder, the chisel can also easily lend itself to other tasks. Roofers use it for other jobs such as trimming bits of lead or forming lead rolls. Small and neat, it easily fits into a tool belt to help out at a moment's notice.
For more info, go to our ancillary range page, or download the product PDF