The plugging chisel-no roofer should be without one
Accuracy is key when removing a mortar course or chasing a slot in a masonry wall – the wrong move and a straightforward refurbishment job can grow in size. The shape and strength of the tool is paramount and that's why we have added a top-quality plugging chisel to our offering
Benefits:
Now available as part of our growing ancillaries range, the plugging chisel is forged from high quality carbon steel to ensure it doesn't splinter when pressure is applied. It is simple to use and far safer than the alternative angle grinder which produces dust and needs a power supply; that is often difficult when working on a roof.
When to use:
When upgrading a mortar course the removal of the old mortar to provide a clean and smooth surface is key and that's when a plugging chisel is the ideal implement. It is also the best tool for the job when a neat slot needs to be chased in a masonry wall.
The plugging chisel can also come in handy when needing to trim bits of lead and form lead rolls.
How to use:
Apply even yet strong pressure to the plugging chisel with your hammer and follow the line of the mortar to be removed, or the slot to be cut.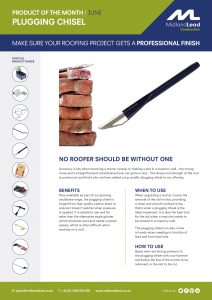 For more info, download our product PDF