Lead has been used for centuries as a versatile and highly prized metal, and when we think of lead we mainly consider its values for roofing and construction. However, lead has been used in many applications over the centuries, including modern art sculpture, yacht ballast and even as weights in ballet shoes.
Here at Midland Lead, we manufacture BBA approved machine-cast lead and supply BS accredited rolled lead. That's where our expertise lies, but we are also fascinated by the stunning artwork that some of our more artistic friends create. Some have recently exhibited their work and often get private commissions.
Lead is such a versatile and soft metal it has been used in a number of beautiful pieces of artwork. In fact, the first known lead sculpture dates back to 3800 B.C. so there is no wonder it is used in modern art.
One artist who has recently started to use lead to create extraordinary sculptures is Craig Marshall, founder of CM Leadworks. He explains why he started to use lead in his art; "I started to learn to weld lead in 2018 and I really enjoyed working with it, but I was getting bored of welding lines and then my creative side took over."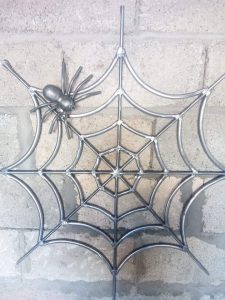 "I saw some metal flowers and thought I could make them with lead and that was the start of CM Leadworks. I started to add different flower designs as the weeks went on. As I grew more confident, I started to enjoy the challenge and just got more and more creative as I appreciated lead as a great material to create artwork that people would enjoy looking at. Ideas then just started to pop into my head and that's how the spider and web got created."
"After this I just started to seek out a bigger challenge and I called on well-known artist and roofer Geo Gargan who gave me advice on how to cast lead. This then sparked the inspiration of creating a life size wounded soldier's head. 'Tommy, the Wounded Soldier' was created to raise money for a charity and was auctioned at the Tony Huggins-Haig Art Gallery to raise money for Remembrance Day. The piece sold in a silent auction and that made me so proud."
Craig, who has exhibits in Germany, France and all over the UK, went on to explain how he handles and manipulates lead when working with it; "I really enjoy using lead as a material in my art mainly for its versatile qualities, but also because it's not a material that people think of when you say art. Lead is easy to bend, boss, weld or cast into almost any shape you desire."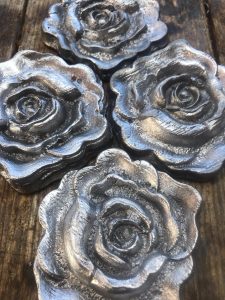 Geo Gargan has been working with lead for many years and, in addition to being an experienced heritage roofer, has also earned a great reputation as an accomplished artist. Here at Midland Lead we have been lucky to work with Geo many times, more recently on a project to bring a 1900's building in the Gorbals back to its original glory.
Much of this work included creating lead detail based on original drawings that dated back to before 1900. Geo applied both his roofing and creative talents to this restoration project, he explains why he likes working with lead; "Lead is a unique material that cannot be replicated, and that's why I also love working with in in my artist studio. I enjoy seeing new talent coming forward too and admire the work of Craig Marshall and I am always happy to share my experiences with anyone who wants to learn more about lead."
Another well-known artist and sculptor, Jamie Limond, is someone who we have been proud to support. Jamie has exhibited his artwork all over the world, from Ipswich to Iraq. Back in 2014 Jamie created 'The Unmarked Pages' that was put on show in the reception area of St Elizabeth Hospice. It represents binary opposites and how they depend on each other to coexist – sad and happy, sick and healthy; without the opposite they wouldn't exist.
Below are some beautiful lead art sculptures that have been created with a little imagination, creativity and – of course – lead.