Gorbals Tenement, Glasgow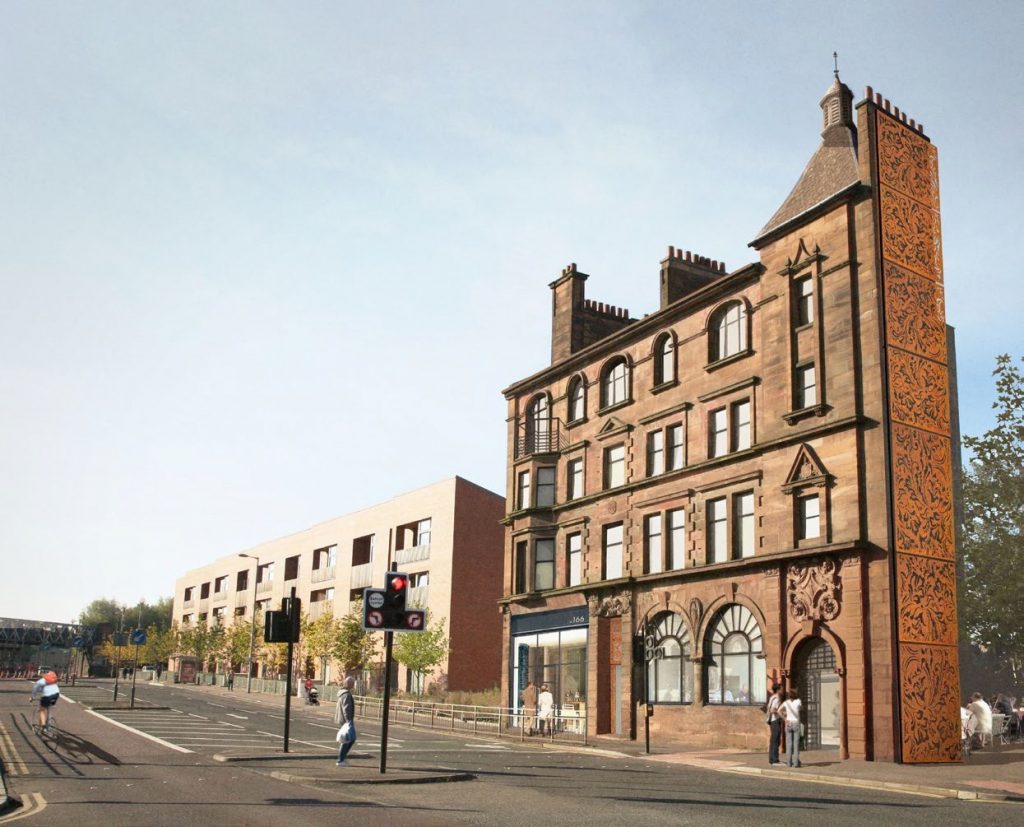 Lead products used:
- Code 4, 5, 6, 7 and 8 lead were used for the restoration of the roof.
- A bespoke sandcast hopper was created to better cope with water run-off and this incorporates dates and a decorative salmon feature.

Contact:
Greg Morrison, Regional Sales Manager at Midland Lead and Geo Gargan of Glenbuild Ltd
This is a landmark project in Glasgow and one of the last remaining Victorian tenement building in the Gorbals. The former British Linen Bank building was built in 1900 and is of significant architectural importance. The property also represents one of the few remaining buildings designed by James Salmon Jr. of Salmon and Gillespie Architects, a contemporary of Mackintosh and celebrated Art Nouveau Glasgow style architect from the 19th Century.
Work to restore this Victorian four-storey building will bring it back to life and into the heart of the community by providing six apartments on the upper floors and space for a bar/restaurant within the lower floor. Southside Housing Association developed the plans with award-winning architect Page \ Park based in Glasgow.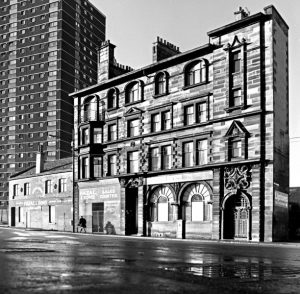 The level of detail and sensitivity that has gone into restoring this landmark building is apparent and Glenbuild carried out much of the work including:
Re-slating using reclaimed Scottish Slate to ensure that every detail is as close to the original plans as possible.
Restoration of the original and imposing lead-roofed bay window –incorporating the original Art Nouveau ironwork.
Rebuilding the prominent bell-tower that has a leadwork feature copied from an old drawing.
The main building includes a decorative lead hopper with a 'salmon' feature created using traditional sandcasting methods.
Specialist leadwork
During the planning and design phases, period features have been sensitively restored using the original 19th century drawings, including details that were never recorded as having been included in the finished building. One feature includes the prominent cast of a salmon on a hopper, which signatures the original architect James Salmon.
In addition to supplying lead sheet for the roofing and bell tower, Glenbuild commissioned Midland Lead to supply the sandcast lead for the hopper to the original specification. Sandcasting this feature ensured that it looked exactly as it would if it was manufactured in 1900 and is a prominent feature of the main building.
Quick Facts:
This building is one of the last remaining tenement within the historic Gorbals area in the heart of Glasgow.
Category A-Listed building built in 1900 for the British Linen Bank.
Work began on the restoration project early 2018 to preserve and rebuild the property and sensitively transform into apartments and community facilities.
Code 4, 5, 6, 7 and 8 lead were used for the restoration of the roof.
A bespoke sandcast hopper was created to better cope with water run-off and this incorporates dates and a decorative salmon feature.
Endorsement
George Gargan, project manager at Glenbuild has played a major role in this project since its inception early in 2018, he said; "Being involved in the restoration of such a significant listed building, right on my doorstep has been both a privilege and a challenge. I have a real passion for restoring historic features of a building and the Gorbals tenement is a beautiful and rare example of James Salmons vision back in the late 19th century.
"Working with Midland Lead has been fantastic and they share the same passion for heritage and restoration as I do and their attention to every detail has made such a big difference. It's great to work with suppliers who care as much about the project as you do."
Glenbuild Ltd
Glenbuild Limited is a family run Ayrshire based business with more than 40 years' experience in the roofing and construction trade. Glenbuild has experts that are renowned regionally for their high-quality specialist roofing work. The company boasts a team of roofing specialists, plumbers, electricians, joiners, bricklayers, plasterers, rough-casters and successfully carry out a number of heritage contracts throughout Scotland & the UK.
George Gargan, of Glenbuild Ltd has been involved in this heritage restoration project from the beginning and has been instrumental in the process, drawing on many years' experience of working on conservation projects.
Key Partners
This project has involved a number of organisations, each bringing their own expertise, including;