Midland Lead Become Marketing Derby Bondholder
Midland Lead is proud to announce that it has become a Marketing Derby Bondholder to help share and celebrate successes and plans for 2020 and beyond.
Marketing Derby is a public-private partnership that promotes Derby on a global platform to help attract and support inward investment into the city and county. Marketing Derby sits firmly at the heart of the Derbyshire business community and joins together like-minded business leaders from small organisations to major global employers.
Midland Lead joins over 350 business that collaborate and support shared goals that include promoting Derby and Derbyshire as an investable location with property, investment and employment opportunities that rival many other counties in the UK.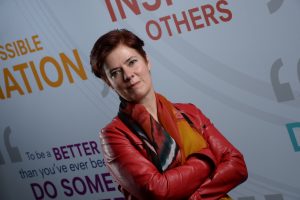 Francoise Derksen, HR manager at Midland Lead explained why they have become a Marketing Derby Bondholder; "We are very proud of our achievements over the last 37 years, and we are lucky enough to work with clients in the UK and overseas supplying lead products and services to the construction, radiation protection and heritage sectors."
"Recently we were listed as one of Derby's top 200 most successful businesses, and this is something that we will continue to build on with a strong team and ambitious growth plans, both in the UK and internationally. With wellbeing at the forefront of our core values, we are looking to further strengthen our team over the next twelve months to fit in with our plans to progress our manufacturing expertise from operatives to officers and management."
"When we met Lindsey of Marketing Derby, she described the organisation as proactive and positive that has its sights firmly set on the future – and that's exactly the same as Midland Lead's outlook and values. We are really pleased to join the Bondholder partnership and look forward to getting involved with events and forums where we feel we can add value."
"We already work with a number of Marketing Derby Bondholders including Loates HR, Ask the Chameleon, Mackney Photography, Alt Design and Gravity Digital. We see how Marketing Derby promotes Derby and Derbyshire regionally, nationally and globally so we decided it was time to join in and celebrate running a successful business in Derbyshire."
"Our export team is currently busy preparing to travel to Dubai as part of a Midlands Engine trade delegation and they are looking forward to being able to support the international promotional activities that Marketing Derby develop."
Midland Lead – Quick Facts: