BBA and NHBC Approved Lead
Superior quality lead products that are manufactured to industry-leading standards is something that our customers can expect as standard here at Midland Lead.
BBA (British Board of Agrément) and NHBC (National House Building Council) accreditations are recognised throughout the construction industry as a symbol of quality and reassurance. Midland Lead manufacture cast lead sheet to the highest standards and have continuously met the high standards of BBA inspections since 1986.
Our BBA and NHBC approved lead give our customers peace of mind that the products they're using comply to building regulations and are reviewed on a regular basis. This certification assesses the following criteria and we continue to meet these standards of excellence at each regular inspection:
Weathertightness – as with all lead products, when installed correctly, provide resistance, whatever weather conditions may throw at them, perfect for roofing and construction.
Resistance to wind uplift – lead also resists the effect of strong wind suction when fixed securely.
Properties in relation to fire – our BBA approved lead is non-combustible, which is a feature that all lead products boast.
Durability – when installed by a professional our lead products have a standard life span in excess of 60 years.
Reuse and recyclability – all of the lead we use is 100% recycled and reused.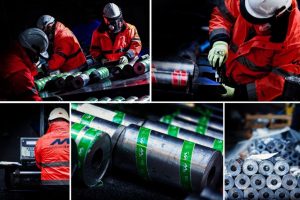 BBA v BS – what's the difference?
High quality machine cast lead, that Midland Lead manufacture, is supplied with BBA 86/1764 accreditation, while high quality rolled lead sheet has a British Standard 12588.
Both BS and BBA are important accreditations for construction products to comply with, BS 12588 and BBA 86/1764 share the same standard requirements. However, BBA accredited products benefit from additional requirements, including two annual external surveillance visits and a 3-year review on product quality and service levels. BBA also carry out regular internal manufacturing and handling quality checks. In addition, Midland Lead's BBA approved machine cast lead provide a 60-year warranty a standard, while BS-accredited rolled lead offers 50 years.
BBA approved lead sheet is also accepted by the NHBC, Building Control, architects, designers and engineers, insurers, building associations and all local authorities and government bodies throughout the UK.
We pride ourselves on our innovative manufacturing processes that continue to combine traditional and modern techniques, and along with the external quality inspections that take place, we constantly monitor our machinery and processes to ensure that we are always looking to maintain and improve into the future.
View Midland Lead's BBA Certificate here.
We are always happy to offer advice when it comes to your lead products, whether you need a recommendation for your next project or some guidance when it comes to lead handling, you can call our expert customer service team on: 01283 224555