Midland Lead Blazing a Trail for National Apprenticeships Week
Here at Midland Lead we are proud to support and celebrate National Apprenticeships Week 2019.
This year, National Apprenticeships Week 2019 takes place from 4th – 8th March and will run with the theme 'Blaze a Trail'. This Government initiative promotes and celebrates the opportunities of partnerships between colleges, employers and apprentices.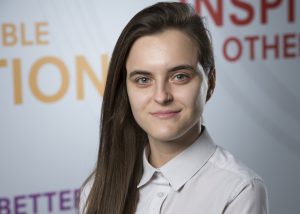 As part of this year's campaign we are thrilled to have appointed Gemma Mulcahy (16), who has joined us until 2020 as part of an apprenticeship scheme through Burton and South Derbyshire College. Gemma started with us in October 2018 and is now full-time as part of her Business Administration course.
Gemma has embraced working with the team and commented; "Midland Lead is a great place to work and it's an honour to play a role within such a busy and ambitious company.
"I wanted to put what I was learning in my course at college into practice, and since working here I've had lots of opportunities to do just that with the full support of the managers and the rest of the team here. Midland Lead are really supportive with training and encouraging with me to gain a good apprenticeship qualification."
Francoise Dersken, HR Manager at Midland Lead knows how important it is to support people at whatever stage they are in their career; "Gemma has settled in really well and she fits in well as part of the team.
"Here at Midland Lead we have a proud reputation for putting our customers at the heart of everything we do. Part of this involves ensuring that we have a strong support team behind us and recruiting an enthusiastic and energetic apprentice like Gemma is a great way for us to do this; as well as enabling us to play our part in preparing the future generation for the world of work.
"Gemma is positive and enthusiastic and a pleasure to work with and we look forward to seeing how her career develops."
In addition to offering a young apprentice a placement at our Derbyshire facilities, we are committed to supporting apprenticeship schemes nationwide. The future skills gap in the construction and roofing sector is well documented, and this was what led to us launching our 'Training Initiative' to offer support to colleges to help address this issue.
Since launching the 'Training Initiative', Midland Lead now support eighteen colleges throughout the UK to those that provide apprenticeships in construction and roofing. As part of our commitment to colleges we provide materials, tools and support to people looking to gain valuable 'hand's on' experience with lead in roofing and construction apprenticeships.
Advocates of developing and supporting skills in construction, we work closely with the CITB and NFRC, and because of this commitment we have developed a strong reputation for helping colleges around the UK. Our apprenticeship programme is an important way for us to support talented people 'Blaze a Trail' with their careers and to encourage new generations of expertise and innovation in construction.