We are up for a national award in our 40th year of business
We are delighted to announce that we have been shortlisted for a national award for HR's professional body, the Chartered Institute of Personnel and Development. The award we have been shortlisted for is 'Best SME People Management Initiative' for the way we engage and develop our people.
As a family-run company we produce over 15,000 tonnes of lead annually for UK and overseas clients and we are the only UK manufacturer offering BBA-certified machine cast lead sheet that also has an Environmental Product Declaration (EPD) – providing transparent life cycle data about our lead sheet. We have become a significant employer in the area, offering a variety of office and manufacturing jobs and apprenticeships. Proud of our manufacturing heritage, this year also marks our 40th anniversary.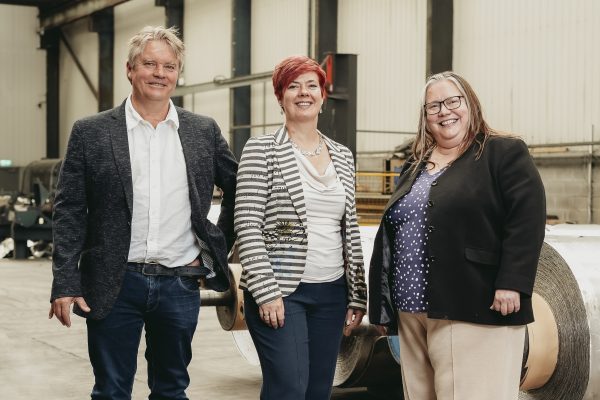 Since 2015 we have worked with Derby-based HR consultancy Loates HR to create a values-led culture, termed "Team Midland Lead" to build a happy, engaged, and healthy workforce.
Manufacturing can be challenging to recruit and retain staff, so we aim to create a flexible, multi-skilled, committed, happy workforce that delivers exceptional customer results. "Team Midland Lead" sought to establish a safe workplace, increase staff retention and attendance, improve productivity and quality, and develop a happy and flexible workforce.
The people-led initiative included the rollout of values, recruiting new starters based against these, developing a pay progression structure for operators and Introducing a suite of benefits such as life insurance and enhanced holiday and sick pay. Coupled with significant investment in training opportunities, he introduction of one-to-ones and employee focus groups. Midland Lead is also a Real Living Wage employer. With a focus on wellbeing, staff can access GP appointments, a bike-to-work scheme, Costco membership and access to lunch and learn workshops on nutrition and adopting a healthy lifestyle.
The investment in staff has reaped rewards, at the end of last year when faced with crippling energy costs, we asked employees to design their shifts to help reduce energy bills but also improve operators' work-life balance; the resulting changes have reduced energy consumption by 20% and means employees can now finish early on a Friday.
HR Manager Francoise Derksen said, "We are absolutely delighted with the news that we have been shortlisted for this prestigious CIPD award and truly value working together with our team and local businesses to make Midland Lead a great place to work and thrive. It's great to hear that the judges have recognised Midland Lead for our long-term approach to people development, establishing us as an employer of choice, an excellent manufacturer driven by a clear business need to recruit and retain the best to deliver the best for our customers."
Director Sarah Loates, from Derby-based Loates HR Consultancy, said, "We have worked closely with Midland Lead for seven years and have been immensely impressed with their unwavering commitment to make their workplace a better place for all. We are so proud that our professional body has recognised their dedication".
The CIPD award for Best SME People Management Initiative recognises businesses with fewer than 250 employees that have transformed how they manage and develop their people to support the workforce and broader business objectives. The judges specifically looked for evidence of the impact of "Team Midland Lead's" approach on business success, including the benefits for employees, customers, suppliers and overall organisation performance.