Specialist Roofing Contractor Timby Roofing Shares Tips on How To Use Lead in Heritage Projects
Midland Lead has worked alongside Timby Roofing for a number of years, and we got the chance to catch up with him recently to share his tips on why lead is the perfect fit for heritage roofing and restoration projects.
Since his days training as a roofing apprentice at Leeds College of Building, founder and owner of Timby Roofing, Matt Timby, is a specialist roofing contractor and has become a respected figure in the industry. Throughout his career he has been awarded a number of honours including NFRC National Roofing Awards alongside achieving gold medals at both National and International World Skills Events.
Midland Lead and Timby Roofing share the same values of sustainability, protecting the environment and using lead in construction and heritage projects. Having worked on a number of historic and listed buildings Matt Timby is an advocate of using lead, and as a specialist roofing contractor he talked to us about the qualities and long-term advantages of using lead; "Lead is a great material to work with, and when specified and installed correctly, it lasts a lifetime. Easily manipulated to form complex details, lead is also a beautiful material, and nothing looks quite as good when it is well installed and finished correctly, whether it is a contemporary design or heritage building.
"Lead can be as decorative as it is functional, and it quickly develops its natural patina which gives it a soft silvery appearance. Nothing looks like lead on a building and it has been used on some of the most beautiful buildings in the world for hundreds of years."
With his many years of working with lead on many different projects, large and small, we asked Matt if he would share his top tips on why lead is such an effective product for heritage projects, here are his five top tips:
Lead is the perfect finish for heritage roofing and building projects
Lead has been used as an effective roofing material for millennia for a reason. Lead is un-paralleled and is still considered one of the finest available roofing products in modern times. Lead is a great material to work with, its easily manipulated, it looks fantastic and lasts a lifetime.
Heritage projects often specify lead sheet because lead would have been used on these buildings when they were first built, and the intention would have been to keep reusing lead to retain the buildings original character. Matt Timby loves working on heritage projects because he believes strongly in preserving the historic fabric and character of a building for future generations. There are often many interesting and unique challenges and it is always incredibly rewarding work.
Find an experienced lead specialist who can work effectively and safely with lead
Heritage projects can be complex and require a skilled and experienced contractor to ensure the finish and work carried out is of quality, often returning the building to its former beauty. You will often find that they will also be very passionate about using lead and know how to handle, store and apply lead. It is important to make sure that roofing contractors have the right training, so be sure to ask for proof of past experience, examples and recommendation of previous projects. Any experienced lead roofing contractor will be able to confidently work to specification and make recommendations if required. Lead is a material that should be installed by someone who understands and appreciates the way it performs when working with it. There is a big difference between being able to do a bit of step flashing to an abutment and being able to cover an ornate finial or cupola roof.
Understand the difference between the range of lead products available
There are a number of ways to manufacture lead – such as sand-cast, machine cast and rolled lead – plus there are a wide range of ancillaries to accompany the installation of lead – for example copper nails, building paper, patination oil and many more. It is really important for any specifier or installer to make sure they know what products to use and when. When replacing lead on a heritage building make sure you ask the contractor what they are using and why, any experienced contractor will easily be able to distinguish what type of lead is required to stay as close to the original installation as possible.
Ensure lead is worked and fitted correctly
It is essential that lead on heritage buildings is fitted correctly to ensure the aesthetic and longevity of the product after installation for years to come. Poor installation can result in premature failure, as lead is open to all the elements that weather can throw at us! Experienced contractors will also be aware that poor handling can also damage the product, it is important that the care is taken so not to damage the material when moving, storing and installing. Any damage to the lead itself can affect the long-term properties of the installation.
Use experienced contractors if you have a listed building
The first and most important thing is to make sure you use an experienced contractor and someone who can demonstrate knowledge about the roof covering in question. My main advice is to engage with a roofing contractor who has a real passion for sensitively restoring heritage buildings. You will always find that where there is passion for a project, there is skill and sensitivity – and that's something that listed building owners will often share with contractors.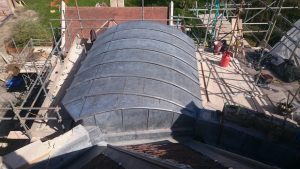 Finally, we asked Matt Timby if there is a project that he has worked on that really stands out, he told us about one particular building that he loved working on; "I have been so lucky to work on a number of restoration projects of all sizes, many of significant historical importance. But my favourite project was also one of my biggest challenges and was once on the English Heritage at risk register.
"The building is privately owned and an absolutely stunning example of British architecture. When the current owner purchased the building, it was in a sorry state and had stood unmaintained for many years. The owner poured his heart, money and passion into making sure that every single detail of this local landmark was restored and conserved to the highest standard – from top to bottom.
"A Medieval castle with parts of the site dating back to Roman times, this project is still ongoing after five years, which is testament to the level of care and detail that is being taken in every respect. This is why it is one of my dream jobs! With the amount of skill and passion that has been taken on bringing this building back to life, it will remain standing for many more years as a family home."
One last thing to note is that there is no better roofing product than lead. Lead is 100% recyclable, non-corrosive and is the most versatile and sustainable roofing product available, but with so much choice it is important to understand why certain types of lead are suitable for particular applications.