Fast, efficient delivery
'Right first time, every time' is our philosophy, none more relevant than when providing our services to builders or contractors.
We understand the complexity of construction project plans and the likelihood of time/delivery penalties you are likely to be working under. That's why we make it our business to be an excellent supplier to our construction industry customers ensuring that you can rely on us to deliver when you need us to.
Quality management process
As part of this commitment we have developed quality management process specifically for working with large construction sites.  This staged process is designed to identify any logistical barriers at the early stage of the project to aid on-site efficiency and reduce the risk of product damage.  Packaging and delivery instructions are then tailor-made to fit the needs of the individual site.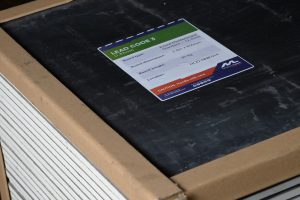 Service and product quality
We are an accredited, quality supplier with many years client experience dealing direct with clients and supporting construction projects. Our appreciation of build requirements means that we ensure that when a product leaves our manufacturing facility, it will have been quality checked against the agreed specification and helpful measures taken to minimise on-site fitting time.
Our accreditations
We have an ISO 9001 accredited quality process.
Our machine cast lead – certified by BBA (certificate No: 86/1764):
Complies with applicable building regulations
Is independently assessed with regards to technical and chemical specification
Is subjected to spectro-lab analysis to ensure it meets required standards
Carries a minimum 60 year durability guarantee (equivalent to that of rolled / milled lead)
Comes with CE mark BS EN14783 showing that it is a fully supported metal product for use as roof coverings, claddings and linings
Our rolled lead:
BS EN 12588 accredited
CE marked BS EN 14783:2006
Fully supported metal sheet and strip for roofing, external cladding and internal lining
50-year guarantee (when correctly installed)
Collaboration and partnership
Ultimately, we share a mutual interest with builders and contractors – that of ensuring that a project is properly specified and the components produced to a standard that minimises on-site fitting time and snagging. That's why you will find us great to deal with, reliable and straightforward.
Whatever product or service configuration you need, we're here to work with you.
How we can help? Give us a call on +44 (0) 1283 224 555 or email us at healthcare@midlandlead.co.uk to tell us about your requirements.