Midland Lead's Commitment to Sustainability Ahead of COP26
Midland Lead recently attended the BMF's Parliamentary Reception as part of their continued support for the CO2nstructZero Campaign and Sustainable Construction.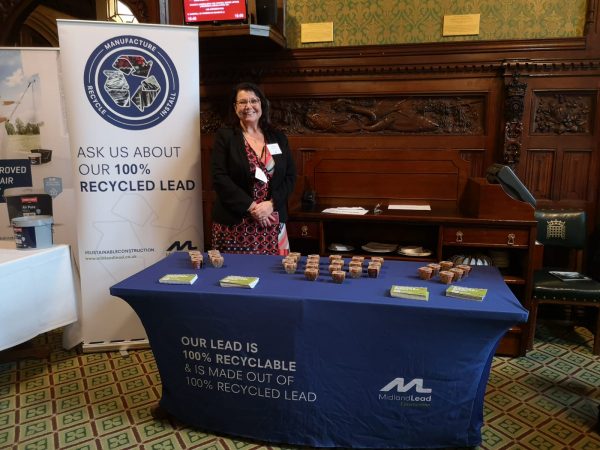 This event was attended by influencers and industry leaders, and ahead of the COP26 conference in Glasgow, was an important showcase for how the construction industry are working towards 'Building a Sustainable Britain'.
As a manufacturer, Midland Lead knows how vital it is to introduce and maintain sustainable processes at every step of their operations and they are the first lead manufacturer to be awarded a BRE Global Environmental Product Declaration (EPD) for cast sheet lead. This is an important step forward, and signal to manufacturers that we can reduce our impact on the environment with commitment and investment.
Boudewijn Tuinenburg, Managing Director, added; "The COP26 summit is a notable event that brings nations together to discuss how to work together to make global decisions on how to reduce our impact on Climate Change.
"It is documented that the global Built Environment and Construction Sector accounts for almost 40% of Global Carbon Emissions. This indicates that there is still a long way to go and here at Midland Lead we work methodically to improve our efficiencies – we are aware that this is a long-term responsibility and not a short-term fix.
"Our obligation to keeping our operations as environmentally efficient as possible is part of how we operate at every step, from office to factory floor. We recognise that the manufacturing industry has a negative impact on the environment, that's why we have always been committed to working on new ways of how to minimise the negative environmental impact through continuously improving our production operations.
"We are currently working with sustainability experts to look at long-term plans on how we can make further improvements. This includes a state-of-the-art local exhaust ventilation system, recovering heat from our kettle operations and using 'Best Available Techniques' (BAT) to reduce energy consumption. We are also looking at installing solar panels on site, changing our vehicles to electric and planting more trees on site to develop a nature reserve.
"The COP26 conference is an opportunity for organisations all over the world to take action to protect our natural environment as much as we can. From watching the conference closely, we are expecting that the outcome will be positive and provide a pathway for businesses to make immediate steps to improve practices to reduce the negative impact of climate change. Nothing should be left to tomorrow."