Midland Lead provide lead detailing traditional materials for the Historical Scampston Hall
AB Heritage Roofing worked closely with Midland Lead on a recent project to restore lead detailing work on Capability Brown's Palladian Bridge at the 17th century Scampston Hall Estate.
Supported by Natural England, the Palladian Bridge restoration project took four months to complete and required each aspect of the bridge to be stripped, repaired, painted and restored ready for the thousands of visitors that head for the stately home and gardens each year.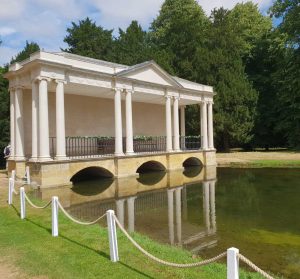 Situated overlooking the lake at Scampston, the bridge itself is a classically-designed structure featuring Ionic columns and a detailed plinth. Each stage of the restoration process was done using materials and techniques sensitive to the age and heritage of the structure, and a key area was the lead detailing work.
Midland Lead are experts at manufacturing traditional sandcast lead often used on heritage projects.  Midland Lead regularly work with English Heritage and the National Trust as well as on a number of projects that require this traditional method of producing lead work for historical buildings.
Contractor Adam Burnett from AB Heritage Roofing explains what work was needed: "We were tasked with replacing the lead cornices, lead ridges, hips and front pediment. These are important details, as they are key elements in retaining the building's classic style.
"We had no hesitation in using Midland Lead to supply the one tonne of code six rolled lead we needed for this project. Their in-depth knowledge, competitive pricing and great customer service has never let us down. Also, their huge range of stock available means we can have whatever we need delivered in a short timescale – a must for this project."
Chris Legard, owner of Scampston Hall comments: "We are so grateful to the support of Natural England which has enabled us to make such drastic improvements to the landscape here at Scampston, with both the lake and the Palladian Bridge. We are hopeful that all our visitors will be able to appreciate Capability Brown's vision for Scampston, restored to its original splendour. Through giving the bridge a little care and attention now, we hope that we will be able to preserve it for future generations."
Now re-open to the public, the bridge has been returned to its former glory, and is ready to provide a stunning backdrop to those all-important wedding photos.