Midland Lead looks back on 35 years of growth
As 2018 draws to a close and 2019 appears on the horizon as a bright light, we have taken the time to reflect on our achievements, and the people that make it happen.
Here at Midland Lead we are one of a kind, and that's why we have become market leader in supplying a wide range of sustainable lead products to a wide range of industries. Investment in people, manufacturing processes and the future skills pipeline is what keeps us ahead of the game.
This year has been one of recognition and celebration which is testament to our positive and professional approach to customers, suppliers and staff.
One of the areas that we have developed this year is our pledge to support the next generation of roofers – whatever stage in their career. This has resulted in us expanding the training offer to seventeen colleges throughout the UK and is something that we will continue to increase into the future.
Our support for training and securing future skills was outlined in another great achievement this year. Midland Lead was invited to appear, alongside just fifteen other companies, in a Parliamentary Review. Published in October, the Parliamentary Review focussed on key governmental policy areas in manufacturing and service. We were asked to share experience and best practice with policy makers and business leaders which helped us to further establish our commitment to promoting diversity and skills within construction.
Our achievements were further recognised in the second half of this year as the team at Midland Lead won not one but three awards for excellence, customer service and high standard of product.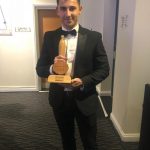 One of the accolades was for Young Employee of The Year and was awarded to our very own Kyle Hazeldine, regional sales manager who commented: "When the finalists were announced I was so proud to be named alongside some really inspiring people, then when they named me as the category winner, I nearly fell off my chair. I was still riding high from the announcement that Midland Lead had won Medium Sized Business of the Year – I literally couldn't believe it and I am brimming with pride more than I could ever have imagined."
However, we know that we couldn't do this without the skills and commitment of our workforce. Testament to this is that two people this year celebrated 35 years of service Dave Woolley, business development manager export and Marty O'Reilly, our direct casting expert. Both employees have played an important part in the Midland Lead's success and have seen many changes since it first opened the doors.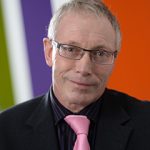 Dave Woolley explains that the strong infrastructure and variation of his role have been key to his role developing over the 35 years: "I get a huge amount of satisfaction from speaking to people entering our industry. I am really proud to be part of a company that is strongly dedicated to building great relationships between the next generation of workers and manufacturers."
With such a strong commitment to people, training and staff development, we are proud of the fact that Midland Lead has become a major employer in the area and we have welcomed fourteen new people this year to the team. With such ambitious growth plans and a growing customer base, we have created new jobs that include those working in the specialist manufacturing unit, an apprentice, four people who returned to the team and two new senior managers. Lynn Street joined the company with more than twenty years of experience in the construction and roofing industry. We also welcomed our new operations manager, Steve Watt to the team, who brings with him years of practical knowledge to our specialist manufacturing facilities.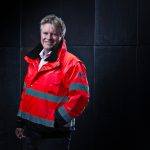 Boudewijn Tuinenburg, managing director of Midland Lead reflected on this year's achievements: "It's so hard for me to describe how proud I am of what we have achieved this year, but overall I would like to say a big thank you to everyone who has helped us develop over the last 35 years. We champion sustainability, not only with our product development but also through our people who we support at every stage. We know that it is our customers, suppliers and staff that have all helped us to arrive where we are today.
2019 will certainly be another year of achievements and we can't wait to see what the future holds."