Midland Lead is proud to sponsor the launch of Contractors Day 2018
Here at Midland Lead we are busy preparing for the launch of Contractors Day next week.
We are always aware of the challenges that the ever-changing construction sector faces and Contractors Day is a great platform for us to be able to showcase our expertise to visitors to the show.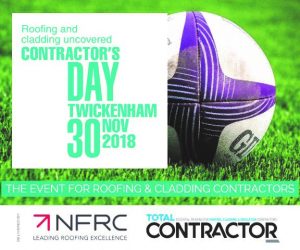 Midland Lead is a progressive company that has worked within the roofing sector for 35 years supplying a wide range of machine-cast lead and ancillary products in the UK and internationally.
Lynn Street, sales and marketing manager, is looking forward to the event; "One of the most common uses for lead is as a weatherproofing material within the building industry. We manufacture and supply premium cast and rolled lead sheet to the highest standards that are suitable for a wide range of building applications including flat and pitched roofs, flashings, gutters and parapets.
"Our customers count on us for high-quality lead roofing products and we manufacture all our products with rigorous testing at our purpose-built facilities in the East Midlands. Proud to be market leaders, we are also the only UK privately owned lead manufacturer that offers the full range of lead products to the construction, healthcare and heritage sectors.
"Contractors Day offers the opportunity to connect with the people who use the products, and our team of experts will be available to talk to people who would like to know how our flexible approach can help contractors with their projects, small or large."
Lead is 100% recyclable, making it extremely environmentally friendly and is the most recycled material in the world. This is something we are very passionate about, in addition to this, lead is still the material of choice within construction for many reasons:
Weatherproof – lead is an impervious barrier, whatever the weather.
Easy-to-use – you can work with lead in any weather, hot, cold, wet or dry.
Versatile – lead is the ultimate malleable metal, so you can shape it to your exact requirements.
Continuity – lead has been used on roofs for centuries and has never been rivalled by any other lead-alternative material.
Hardwearing – lead roofs last and last and, if properly treated and correctly installed, the BBA states that our machine-cast lead will last in excess of 60 years.
We will be exhibiting at Contractors Day in Twickenham on Stand 7, so if you are attending please take a moment to come and have a chat to us about any project we may be able to help you with.
http://www.contractorsday.co.uk/directory-exhibitors/listing/midland-lead/