Midland Lead Continue to Invest in People
It is the people who work here at Midland Lead that help us to thrive and we recognise that every single individual plays an important role in our future success.
Here at Midland Lead, one thing that lies at the heart of our business development is our ongoing commitment to enabling employees to be the best that they can. Our business strategy is based on the premise of; 'If you take care of your employees, they will take care of your customers.'
Our commitment starts with our people and our aim is to ensure that all employees have the opportunity to thrive, by continuing to invest in training and development. We know that the best way to bring our core values into focus is to help people feel engaged and passionate about our future together. We support our employees through competitive reward programmes, development opportunities and health and wellbeing initiatives.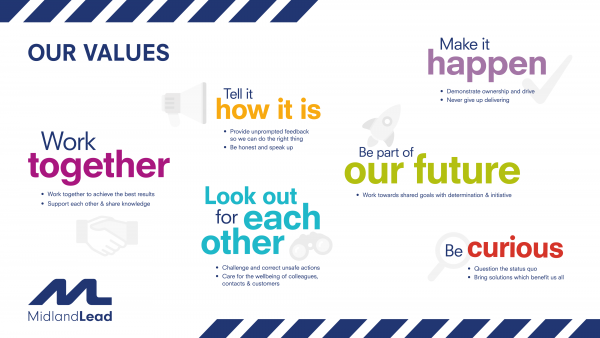 Last year was challenging for most businesses but we also recognise it was very difficult for employees on a personal level, so we made the pledge to continue to invest in training and development. Over the last twelve months we created a programme of helping our operations staff to share skills and train in different areas of the business and all of our equipment.
We work closely with local company DH Training who focus on helping people gain additional transferrable qualifications through the AITT (Association of Industrial Truck Trainers). These included forklift truck counterbalance, forklift conversions, excavator and loading shovel training as well as overhead crane, harness and banksman training. Helping people gain accredited qualifications and a wide range of skills gives people the opportunity to develop to their full potential. It also enables them to work in other areas of the manufacturing process speeding up efficiencies and resulting in better service for our customers.
David Hines of DH Training said: "Midland Lead are truly committed to their staff and the idea of swapping skills and upskilling people definitely motivates people. I always enjoy working with the team here and even as an external provider, they really make me feel part of the team.
"Midland Lead put people at the centre of their business, and they know that a happy workforce is more productive, and it is evident whenever we visit that people are motivated and enjoy learning new skills. This also lends itself to the great safety culture that runs throughout the business, when people know more about the whole operations side, they are more aware of potential health and safety risks and how these can affect efficiency as well as their colleagues."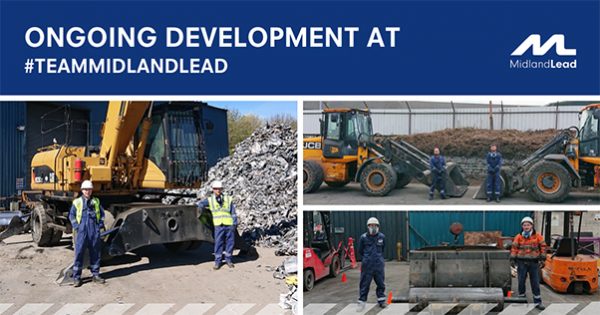 External training with DH Training is ongoing and before the summer most of the operations team will be fully trained with the opportunity of refreshing their skills.
Francoise Derksen, HR manager explained that Midland Lead's ongoing investment in their staff is based on their vision; "It has been a real challenge to keep staff engaged during the pandemic but we wanted to show our commitment to people by offering a clear career path, especially within our operations team. Typically within manufacturing, people work on specific lines and carry out day-to-day tasks, but we want to encourage flexibility, provide wider skills and maintain staff motivation – especially when times are tough. This means that people can work on anything rather than just one task which helps them to work closer as a team and makes their work more interesting."
We also work closely with Derby based company Loates HR who regularly advise and help us review and update our pay and staff progression structure so people can reach their full potential and maintain staff motivation at all levels in the business.
Sarah Loates, owner of LoatesHR said "We work with many SMEs across the East Midlands. Midland Lead consistently punches above its weight with respect to its investment in its people, and implementing best practice HR. They are genuine about creating the right culture and in turn an engaged workforce, they care about their employees which reaps results for the business, customers and its employees. Midland Lead is a great place to work and is truly a stand-out company in terms of how it looks after its staff from pay through to looking after their mental health."
Francoise Derksen concluded; "In terms of engagement, efficiency and committed staff, working together we will achieve our goal of having a flexible, multi-skilled workforce. Due to our ongoing growth plans, we are also looking to recruit additional operatives, where they will be able to gain valuable skills, qualifications and join a team that enjoys a great working environment with a company that will support them every step of the way."
If you would like to join our operations team, please contact Francoise who will be happy to hear from you, please email Francoise.Derksen@midlandlead.co.uk or call us on 01283 224 555