Kyle Nominated as a Top 100 BMF and BNM Supplier Influencer
The Builders Merchants Federation and Builders' Merchants News launched a campaign to celebrate key influencers in the sector.
Midland Lead is delighted to reveal that Sales and Marketing Manager, Kyle Hazeldine, has been nominated as a Top 100 Supplier Influencer in the builders' merchant industry by an unknown source.
The campaign is designed to recognise individuals who actively promote the industry, and who show a real commitment to supporting the advancement of new and diverse talent to join the sector as a long-term career.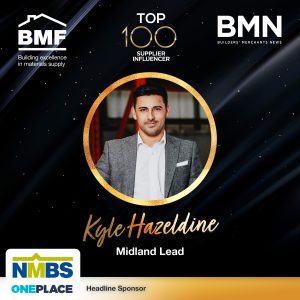 Kyle said: "I was really surprised when I received the news that I had been nominated as an industry influencer. It is a real privilege as I am constantly inspired by so many positive people who are as passionate about the industry as myself. Midland Lead is a supplier to many builders' merchants across the UK, and choosing a career in this industry is both rewarding and full of opportunity. I feel lucky that I am surrounded by so many supportive colleagues, clients and suppliers.
"This nomination means so much to me and I am constantly excited about the innovative ways that this sector considers the future in terms of both skills development and reducing its negative impact on the environment."
In an article published on the BNM website, John Newcomb, CEO of the BMF, said: "The BMF represents merchants and their suppliers in equal measure. So it's only natural to follow our successful quest to identify the Top 100 Merchant Influencers, with a similar search to discover the Top 100 Supplier Influencers. The industry flourishes when these two elements work in partnership.
"Supplier influencers may introduce innovative products to the market, take time to build fantastic working relationships with their customers, support colleagues, promote affirmative action or be prepared to take a risk in finding new solutions to old problems.
"Whether they are already well known, or an emerging new talent, we stand ready to celebrate and salute their achievements."
BMN's Associate Publisher, Lucyanne Matthews, added: "Once again Builders' Merchants News is excited to partner with the Builders Merchants Federation to recognise and celebrate the most influential people in the industry; this time highlighting the experience and commitment that the many individuals who work for construction product manufacturers have for the sector.
"They have all shown how proactive they are across many different platforms that reach the merchant sector whether this be through engagement with buying groups, the federation or by working closely with the many charities that represent our industry.
"I am looking forward to bringing these Top 100 people together for a celebration and working with the buying groups is an exciting industry first."
Nominees will be invited to a Gala Dinner on 25 May 2023 at The Belfry, for an evening of celebration sponsored by the NMBS, and will also be an opportunity to network with other key members of the builders' merchant industry.