Double win – and we are so proud!
Last night was truly a night to remember – we were named winners of not one, but two categories at the 2018 Burton Mail Business Awards and we are so proud.
The awards ceremony took place at the Pirelli Stadium where businesses from all over East Staffordshire and South Derbyshire gathered to mix, mingle and enjoy the events as the winners of eleven categories were revealed.
Midland Lead were awarded Medium Business of the Year followed by Young Employee of the Year.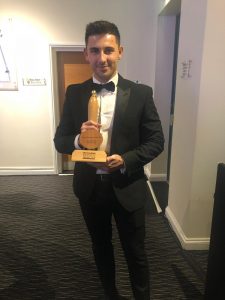 Kyle Hazeldine, regional sales manager for Midland Lead, winner of the Young Employee of the Year Award. "When the finalists were announced I was so proud to be named alongside some really inspiring people, then when they named me as the category winner, I nearly fell off my chair. I was still riding high from the announcement that Midland Lead had won Medium Sized Business of the Year – I literally couldn't believe it and I am brimming with pride more than I could ever have imagined."
Burton Mail Business Awards director, Dave Bryon said: "We were all so proud to bring together firms, no matter their size, from across East Staffordshire and South Derbyshire to celebrate the best of the best at the Burton Mail Business Awards.
"The standard was, as ever, so incredibly high and all entrants have provided a wonderful overview of the amazing businesses we have across East Staffordshire and South Derbyshire."
2018 has already proven to be a successful year for Midland Lead not only marking our 35th anniversary, but also earning the title of Supplier of the Year from the H&B group earlier this year.
We are still riding high on this news and will do for quite some time, and couldn't thank our staff, suppliers, customers and of course the judges more – thank you!