Double Awards Success is Icing on the Cake – in our 40th anniversary year!
#TeamMidlandLead is riding high after winning two awards at the prestigious East Midlands Chamber Derbyshire Business Awards 2023.
We scooped the coveted Derbyshire Business of the Year, demonstrating excellence in our field and crowning our 40th year as a family-run local manufacturer.
We also bagged a second award for Commitment to People Development. In recognition of the growth opportunities and support we have provided our team.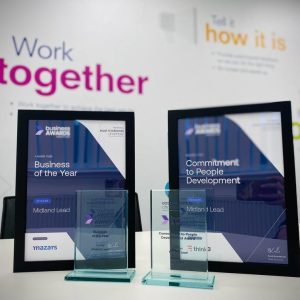 Francoise Derksen, HR Manager, commented, "We are absolutely delighted to have won the Commitment to People Development award, as it recognises the importance of the strategic HR journey we embarked on five years ago; our investment and vision to develop and grow a happy and healthy, engaged workforce. The award also recognises the efforts of the individual staff members and their willingness to learn, step out of their comfort zones, and build #TeamMidlandLead.
And then to top it off with winning Derbyshire Business of the Year during our 40th anniversary year – WOW, celebrating success with the team and our Derbyshire Business Community doesn't get much better than this."
Director Sarah Loates, from Derby-based Loates HR Consultancy, said, "Midland Lead is a testament to what can be achieved when businesses put people at the heart of their operations. Midland Lead has invested heavily in creating a great place to work and is now reaping its well-earned reward.
Scott Knowles, Chief Executive of East Midlands Chamber, said, "Our Business Awards celebrate success in the East Midlands and those at the forefront when it comes to driving the UK's 'Engine for Growth'.
Midland Lead will now be considered alongside winners from both Nottinghamshire and Leicestershire, with the opportunity to go through to the regional and national British Chambers of Commerce Awards.