Roof slating and lead work at Bowood Estate

Lead products used:
In excess of 20 tonnes of lead sheet, Codes 3, 4, 5 and 6 have been used to complete Bowood Estate
Contact:
Lee Sharland, joint Managing Director
Sharland Roofing Ltd
We are a satisfied customer of Midland Lead Manufacturers for approximately 4 or 5 years now. We find the sales staff very helpful and we have never had any issues. Moreover, the lead products we use from Midland Lead are always supplied to a very high standard and on time – which are both very important factors to us.

Lee Sharland, joint managing director of Sharland Roofing Ltd
Sharland Roofing Ltd is one of the UK's leading roofing specialists. The family-owned company – stretching back three generations – operates primarily in South West England, where lead work is carried out for major developers such as Barratt Homes, David Wilsons and Persimmon Homes.
Throughout the area, Sharland Roofing is well-known for their expertise in combining traditional roofing skills with modern products. Recent commissions include Marriots Walk – a new retail, leisure and residential development in Witney – and the development of Bowood Estate in Chippenham.

The Bowood Estate project was a fast-running project, where Sharland successfully completed the roof slating and lead work on the brand-new, luxurious 43 bedroom Bowood Hotel and Spa. Over 20 tonnes of lead were extensively used to cover the whole range of lead work, from lead rolled hips, box gutters, lead ridges and cappings to lead ornaments and flat roofs. The major challenge Sharland was faced with, were the unique designs for the dormer roofs, box gutters and various other flashings, which their lead operatives had to design and build along the project. In addition, the entire roofing job had to be finished within 4 months – which the company succeeded in. It even managed to complete the project ahead of the deadline. Partly due to negotiation with Midland Lead's sales staff, Sharland also managed to keep the project, in particular the costs of lead, within budget.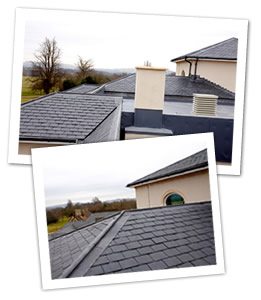 Lee Sharland, joint managing director of Sharland Roofing Ltd: "We are a satisfied customer of Midland Lead Manufacturers for approximately 4 or 5 years now. We find the sales staff very helpful and we have never had any issues. Moreover, the lead products we use from Midland Lead are always supplied to a very high standard and on time – which are both very important factors to us."
For further details, contact Sharland Roofing via tel: 01793 522516 or go to: www.sharlandroofing.co.uk