Grade II listed Victorian Market Hall – Derby Market Hall Re-roofing Project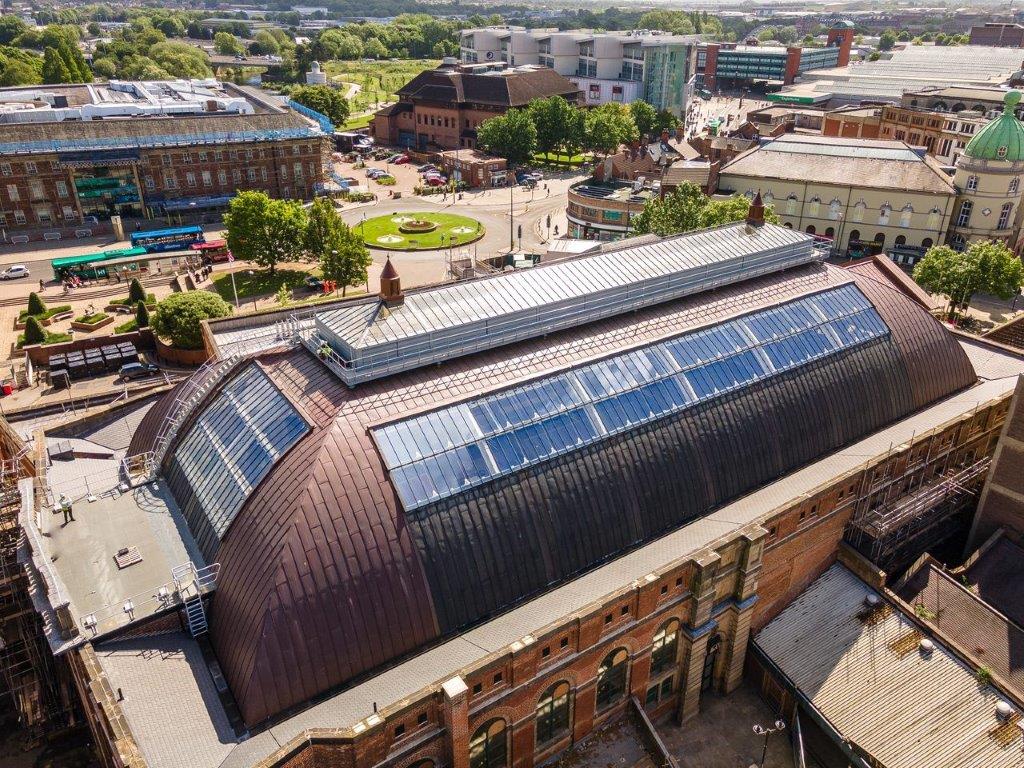 Lead products used:
• 5 tonnes of BBA certified cast lead used for general flashings
• Code 5 and Code 6 Lead and Building Paper were used
Contact:
If you have a project needing expertise in lead used for heritage projects, then get in touch with us to discuss how we can help. Call us on +44 (0) 1283 224 555
The Project
Derby Market Hall has been a project undertaken by Derby City Council to help transform this historic building into a modern retail and leisure destination in the heart of the city. The revamped market hall will include traditional and themed markets, spaces for events and one-off or pop-up uses, and spaces for individual makers, food and drink.
NRA worked closely with Wates Construction to set about the sensitive restoration of the Victorian building that included masonry repairs internal cleaning of the roof structure, before the challenging and extensive heritage glazed roof replacement works. Midland Lead provided the lead that was used on the external frame that needed to imitate the original roofing design to stay true to its Victorian heritage.
John Carlin, Regional Director at Wates Construction, said: "It has been a privilege to work on the restoration and transformation of such an iconic and unique building, Wates has many years of experience in delivering projects of this kind and are focused on maintaining the historic charm of the Market Hall but also bringing it into the council's overall modern vision for the revitalisation of the wider city centre. Materials used were carefully considered and sourced to complement the existing building."
Councillor Mick Barker, Cabinet Member for Governance and Deputy Leader of Derby City Council, said: "Derby Market Hall is one of the city's most beautiful and prominent buildings, which connects key areas of our city centre.
"As a Grade II listed building, it deserves tasteful and sympathetic attention to detail to its renovation. Quality takes time and we're delighted to see that this striking copper roof has now been finished, which paves the way for the rest of the Market Hall's transformation.
"Soon we can move onto the internal renovation and give Derby a fantastic market, which is full of life and which will help draw people back into the heart of our city."
Overview (Quick Facts)
Grade II Listed Victorian market hall restoration
Phase I Work was completed in August 2022
Specialist heritage roofing work
5 tonnes of BBA certified cast lead used for general flashings
Code 5 and Code 6 Lead and Building Paper were used
Endorsement
Wayne Mycroft, director at NRA Roofing said; "Working on this project has been great and the building itself looks stunning. We have also completed work on the Council house building just across the road which included restoration of that roof where again we worked closely with Midland Lead to achieve the right quality and finish."