Building the Future – Celebrating National Apprenticeship Week 2021
Here at Midland Lead, we are proud to support National Apprenticeship Week 2021 and celebrate our apprentice, Gemma Mulcahy.
2020 threw unimaginable challenges at every business and we found ourselves on a steep learning curve, especially as we needed to quickly introduce new working practices throughout the business. Although last year was unpredictable and will go down in history for being one of the worst for our economy, one thing that really stood out was how our team supported each other, they pulled together to make sure everyone was safe and adjusted to the ever-changing working practices.
National Apprenticeship Week 2021 has the theme of 'Building the Future' and what better way to demonstrate that than by championing Gemma who joined us in 2019.
Since joining Midland Lead as an integral part of our customer service team, Gemma has shown us commitment, ambition and a drive that has seen her go from strength to strength and carve out a promising career.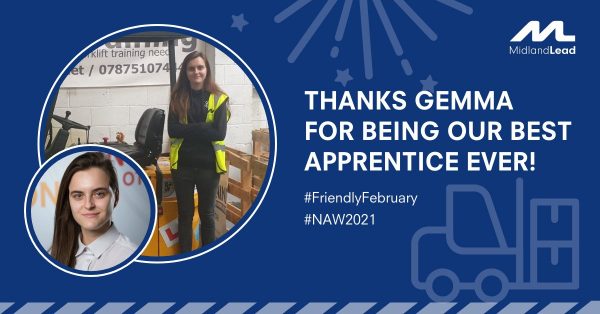 Francoise Dersken, HR Manager at Midland Lead said; "When we started to work remotely during the first national lockdown much of our team began to work from home if they could to reduce contact in the office, but at the same time we also needed to keep our manufacturing operations running and communicate with customers and suppliers.
"Gemma was immediately eager to do the best she could, and nothing phased her when she was asked to support her fellow team members. Over the last twelve months Gemma has adapted quickly – no matter what the challenge.
"As we found ourselves short-staffed without notice due to self-isolation, Gemma picked up the task of helping the operations team. Moving quickly from being an extra pair of hands, she progressed to operating the weighbridge. The next challenge that she faced was driving a fork-lift truck and, in the process, gained her fork-lift-truck licence.
"With a real 'can-do' attitude, she now helps to load and unload trucks as an accomplished fork-lift truck operator, as well as maintaining her role within customer services. We are so proud and she is a real asset to our business.
"Gemma is positive and enthusiastic and a pleasure to work with and we look forward to seeing how her career develops."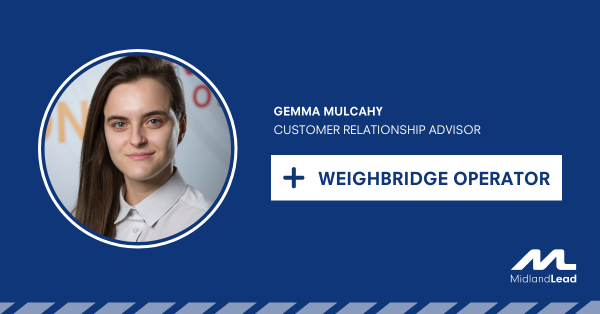 Gemma has embraced working in many departments and commented; "Midland Lead is a great place to expand my skill-set and it's an honour to play a role within such a busy and ambitious company.
"Initially I had no idea how my role would work out as this was one of my first jobs. Midland Lead is really supportive with training and encouraging me to gain new skills. They are always willing to let me try new things and play a role in the future of the business."
In addition to offering a young apprentice a placement at our Derbyshire facilities, we are committed to supporting apprenticeship schemes nationwide. The future skills gap continues to grow in the construction and roofing sector, and we want to do everything we can to help address this issue.