Bolton College Apprentice of The Year Award
Midland Lead recently sponsored the North West Roof Training Group Bolton College Apprentice of the Year Award 2022 and are proud to recognise the future talent in the construction sector.
Here at Midland Lead we have always recognised outstanding achievement for those starting out in their career as roofers and sponsoring this award was a honour. The worthy winner, Todd Oatey, was one of many apprentices who took part in several challenges to showcase their skills including tiling, slating and lead work. After winning the award Todd said: "It means a lot to me to win today and I want to thank my employer P Duckworth Roofing and my tutor Luke O'Gorman for all their help and support."*
Midland Lead donated lead and tools for the competition along with goody bags for all the competitors that took part. In attendance was Regional Sales Manager Thomas Lord: "The event was a real showcase of the apprentices' skills and a demonstration of what they have learnt during their time at Bolton College. It was great to see how enthusiastic and passionate the apprentices were about roofing. We recognise that a career in construction is incredibly rewarding, and we wish them all the best as they play a part on strengthening the future of roofing, using lead as a preferred material."
Sue Wharton, Group Training Officer at North West Roof Training Group added: "Apprentices are vital to the prosperity of the roofing sector, and the Roofing Workshop at Bolton College equips individuals with skills and knowledge to achieve success. Midland Lead's involvement is inspirational and offers stimulation and encouragement to those undergoing training. Their sponsorship and involvement in this year's event, took it to another level, and all four finalists excelled."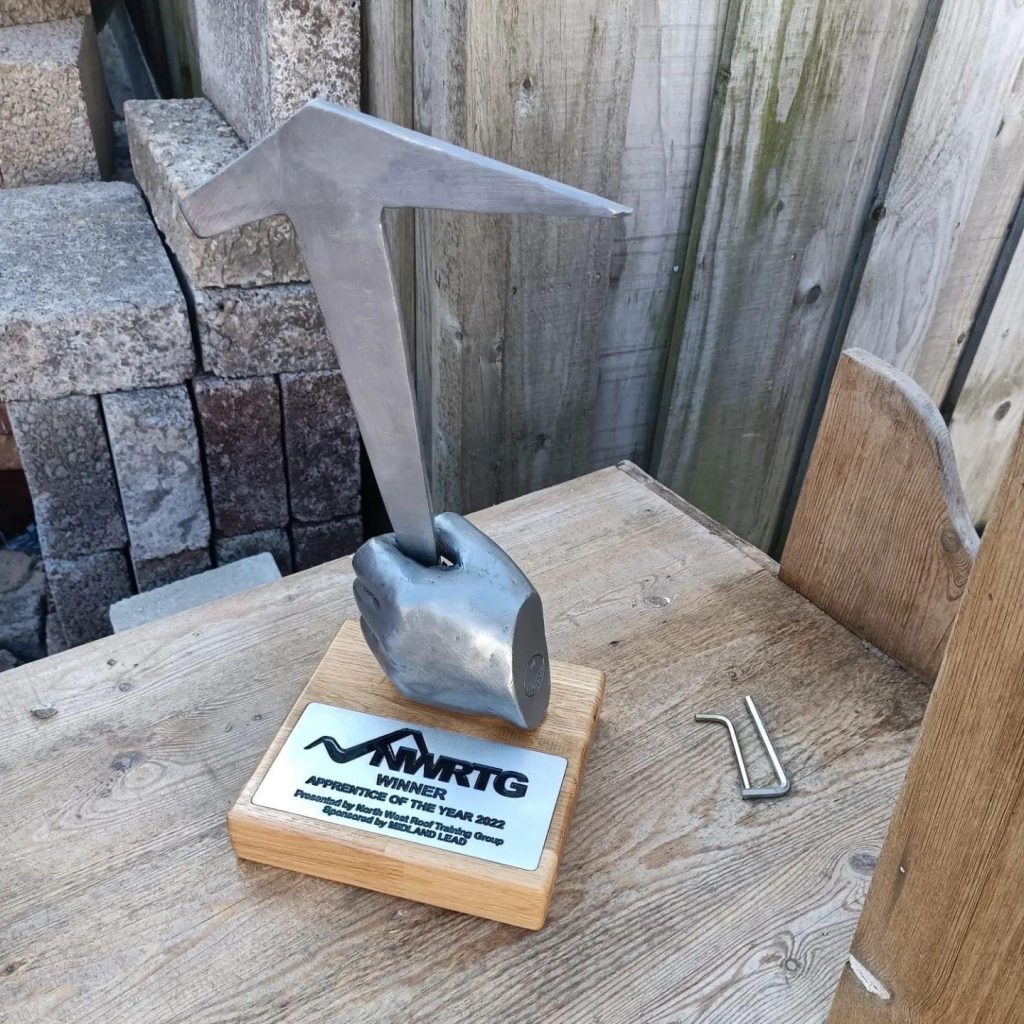 Midland Lead commissioned CM Leadworks to design and manufacture the stunning award that grabbed lots of attention at the event. Thomas Lord: "We wanted the trophy to have a real impact and take pride of place by the winner, and also show off the versatility of lead as a product that can not only be used in construction, but also pieces of art."
Craig Marshall, founder of CM Leadworks uses lead to create extraordinary sculptures and has had his work exhibited all over the world, he explains why he started to use lead in his art; "It was a real pleasure to be asked to design an award for this competition. Midland Lead wanted something that showed off the best of both lead as a material and a design that was original. I was inspired to create someone using a hammer because I thought it was fitting for an apprentice, starting their career and a lead manufacturer. I have been creating artwork in lead for around four years now, and as a roofer myself I use it every day in my work and it is the perfect material to use for artwork. Congratulations to the winner Todd and I wish him all the best in his career."
By its very nature, lead is the most sustainable and versatile roofing material and our support for colleges and apprenticeships reinforces this message, not only is lead's impact on the environment less than alternative roofing products, but it is also the most versatile roofing product available.
If you would like to get in touch to find out how we can support colleges and training courses, please get in touch with one our Regional Sales team who will be happy to discuss how we can support our future roofers.
*Source: Roofing Today https://www.roofingtoday.co.uk/bolton-college-2022-apprentice-of-the-year-declares-winner/